Plan Your Visit
If this is your first trip or you are a seasoned veteran, we are here to provide trip planning advice to ensure that your visit is a memorable one.
A Lifetime of Experiences Awaits
Telluride, Colorado is a picturesque mountain town located in the southwest corner of the state. Known for its stunning natural beauty, world-class skiing, and vibrant cultural scene, it is a popular destination for outdoor enthusiasts, culture lovers, and anyone looking to escape the hustle and bustle of everyday life. If you are planning a visit to Telluride, here is everything you need to know.
Hidden among some of the most majestic and breathtaking scenery in the world, Telluride is a quaint Victorian mining town that is more akin to a movie set than a vacation destination. Its high-altitude twin, Mountain Village, is located at the base of the Telluride Ski Resort and provides a luxe, more contemporary counterpoint to funk and historic Telluride. There are so many reasons to visit the area, from its world-class skiing and role as the festival capital of Colorado, to its delightful restaurants, boutiques and galleries, outstanding natural beauty and wide range of outdoor activities. Now that you've decided that you want to take in all that Telluride has to offer, come experience it for yourself. If this is your first trip or you are a seasoned veteran, we are here to provide trip planning advice to ensure that your visit is a memorable one.
---
Getting Here
The easiest way to get to Telluride is by flying into the Montrose Regional Airport (MTJ), which is about 65 miles from Telluride. From there, you can take a shuttle or rent a car to drive to Telluride. Alternatively, you can fly into the Telluride Regional Airport (TEX), which is located just a few miles from town, but flights to this airport are often limited and can be more expensive.
If you prefer to drive, Telluride is located about six hours from Denver, four hours from Salt Lake City, and five hours from Albuquerque. The roads leading to Telluride can be steep and winding, so it's important to be prepared for winter driving conditions if you are visiting during the colder months.

---
Getting Around
Different Areas to Consider.
Telluride is divided into two main areas: the town of Telluride and the Mountain Village. The town of Telluride is located in a box canyon and is home to many historic buildings and charming shops and restaurants. The Mountain Village is a modern resort area located up the mountain from the town, with many luxury hotels, restaurants, and shops.
---
Parking
Parking in Telluride can be a bit of a challenge, especially during peak season. There are several paid parking lots located throughout the town, but they can fill up quickly. If you are staying in a hotel or vacation rental, be sure to check if parking is included. If you plan on skiing, many of the local ski resorts offer free parking with shuttle service to the slopes.
---
Hospitality
Telluride has a wide range of accommodation options, from luxury hotels to cozy cabins and vacation rentals. Some of the most popular hotels in town include the Madeline Hotel and Residences, the Lumière Hotel, and the Hotel Telluride. If you prefer to stay in a vacation rental, there are many options available through sites like Airbnb and VRBO.
---
Skiing
The activities you can enjoy in Telluride will depend on the time of year you visit. In the winter, skiing and snowboarding are the main attractions, with several world-class ski resorts located nearby, including the Telluride Ski Resort and the nearby Silverton Mountain. In the summer, hiking, biking, and rock climbing are popular activities, and there are many beautiful trails and peaks to explore.
---
Activities
Other popular activities in Telluride include hot air ballooning, fly fishing, horseback riding, and rafting. For culture lovers, Telluride is also home to several festivals throughout the year, including the Telluride Film Festival, the Telluride Blues & Brews Festival, and the Telluride Jazz Festival.
Places to Visit While You're There:
There are many great places to visit in and around Telluride, depending on your interests. Some of the most popular attractions include the Bridal Veil Falls, the Telluride Historical Museum, and the Sheridan Opera House. If you're interested in exploring the surrounding area, you can take a scenic drive along the Million Dollar Highway or visit nearby towns like Ouray and Durango.
Overall, Telluride is a beautiful and vibrant destination that offers something for everyone. Whether you're looking for outdoor adventures, cultural experiences, or just a relaxing getaway, you're sure to find it in Telluride.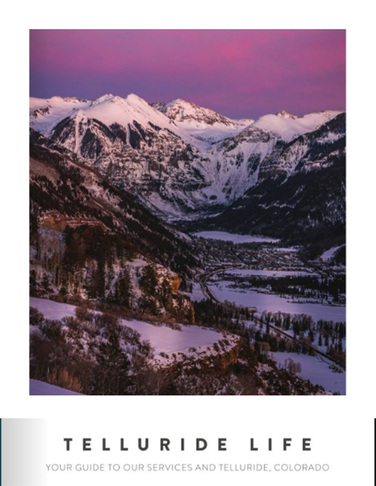 RELOCATION GUIDE
RELOCATION GUIDE
RELOCATION GUIDE
LIVing Your Telluirde
TELLURIDE & MOUNTAIN VILLAGE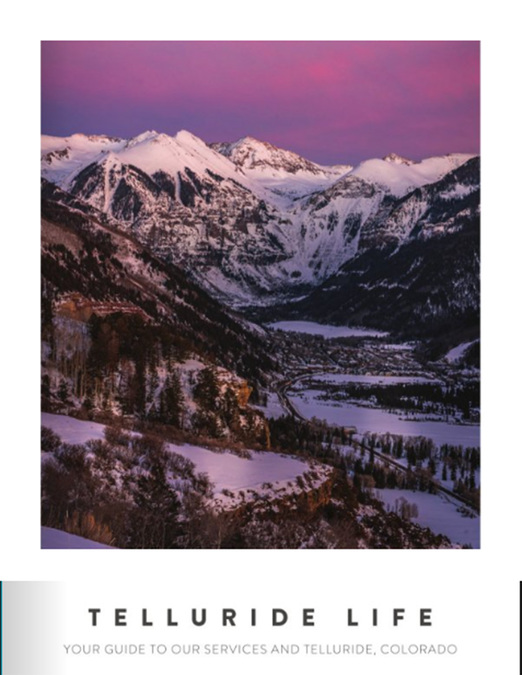 RELOCATION GUIDE
RELOCATION GUIDE
RELOCATION GUIDE
LIVing Your Telluirde
TELLURIDE & MOUNTAIN VILLAGE
Telluride Life
Helping clients move to and from Colorado is our specialty. LIV Sotheby's international Realty provides expert relocation assistance to over 2,000 families annually. With a dedicated seven-person, professional relocation stuff at our Denver Headquarters, we help unite thousands of buyers with properties in Colorado and around the world!