Activities and Events
A picturesque escape where you can start your day on the slopes and end it in town indulging in delicious local food and libations. Walking around you will find yourself staring up at the impressive San Juan Mountains that surround this quaint mountain town and you'll probably ask yourself if you ever have to leave. Soak up all that Telluride has to offer in the winter season and enjoy your stay with us!
Events in Telluride
Telluride, Colorado is a town that offers many activities and events throughout the year, so there is always something to do no matter what month you visit. Here are some of the monthly activities and events you can enjoy in Telluride:
January:
Telluride Art Walk: a free event that takes place on the first Thursday of every month, showcasing local artists and their work.
Telluride Fire Festival: a three-day event that features fire installations, performances, and workshops.
February:
Telluride Comedy Festival: a three-day event that brings together top comedians from around the country for stand-up performances and other comedic events.
Telluride Gay Ski Week: a week-long event that celebrates the LGBTQ+ community with skiing, parties, and other events.
March:
Telluride Gay Ski Week (continues from February)
Telluride AIDS Benefit: a fundraiser that features a fashion show, art auction, and performance art.
April:
Telluride Mountainfilm Festival: a four-day event that showcases films about outdoor adventure, environmental activism, and social justice.
May:
Telluride Literary Arts Festival: a free event that celebrates literature and the written word with readings, workshops, and other activities.
Telluride Balloon Festival: a weekend-long event that features hot air balloon launches, live music, and other activities.
June:
Telluride Bluegrass Festival: a four-day event that features live bluegrass music from some of the best musicians in the world.
Telluride Yoga Festival: a weekend-long event that offers yoga classes, workshops, and other activities.
July:
Telluride Plein Air Festival: a week-long event that brings together artists to paint the stunning landscapes of Telluride.
Fourth of July Celebration: a day-long event that includes a parade, live music, and fireworks.
August:
Telluride Chamber Music Festival: a series of concerts that showcase classical music performed by world-class musicians.
Telluride Mushroom Festival: a weekend-long event that celebrates the world of fungi with lectures, workshops, and guided mushroom hunts.
September:
Telluride Film Festival: a four-day event that showcases some of the best films from around the world, often featuring world premieres.
Telluride Blues & Brews Festival: a three-day event that features live blues music and craft beer.
October:
Telluride Horror Show: a three-day event that showcases horror films from around the world.
Telluride Festival of Cars & Colors: a four-day event that features vintage and exotic cars, as well as a hot air balloon rally.
November:
Ski Season Begins: depending on snow conditions, the ski season usually begins in November.
Telluride Mountain Village Tree Lighting: a festive event that kicks off the holiday season with a tree lighting ceremony and other activities.
December:
Holiday Prelude: a weekend-long event that features holiday lights, live music, and other festive activities.
Christmas Eve Torchlight Parade: a beloved Telluride tradition where skiers and snowboarders descend the mountain carrying torches.
New Year's Eve Fireworks: a fireworks display to ring in the new year.
Winter Activities in Telluride
Although Telluride is known for its skiing, there are numerous winter activities to enjoy without having to gear up for the slopes. Take a ride with Telluride Sleighs & Wagons: Looking for a historic winter experience? Telluride Sleighs & Wagons offers a winter experience unlike anything else. Take a ride through Telluride's beautiful landscape and end with a delicious dinner. This is an experience you won't want to miss out on and is perfect for families, date night, or to enjoy with a group of friends.
Nestled in a box canyon and surrounded by majestic 14,000-foot peaks, Telluride offers breathtaking views at all turns. Consistent snowfall means gliding across perfectly groomed cross-country trails day or night, fat biking on winding paths and taking in turns at North America's #1 rated ski resort.
After a day of wintering in the valley or surrounding areas, stroll through the historic mining town and designated National Historic Landmark, with the clapboard storefronts, boutiques, gourmet restaurants and a thriving arts scene. Soak in the good cheer of our saloons and relax at one of our many spas. Just eight blocks wide and twelve blocks long, Telluride today is a mix of colorful Victorian-era homes with European architecture, ski-in/ski-out hotels and sweeping views of the surrounding peaks.
Seeking a more daring adventure? Helitrax offers the ultimate helicopter skiing and snowboarding experience with a crew of expert guides. Take some of the best turns of your life in the pristine San Juan Mountains for a truly unforgettable experience.
Biking isn't just for the summer months! Experience the fun of biking on snow with fat bike rentals from Boot Doctors! Pack a lunch to take with you for the day and experience our trails in a whole new way.
Nordic skiing & Snowshoeing in Mountain Village: There are approximately 8 miles of winter trails to explore on nordic skis or snowshoes! Check out The Town of Mountain Village for more information regarding trails, rentals, and dog accessibility.
Take a relaxing soak in one of our nearby hot springs: Quite possibly one of our favorite ways to relax in the winter. Check out the three hot springs nearby, each with their own personalized touch to elevate your wellness.
For more options regarding winter activities, updates on COVID-19, and rental information, please check out Visit Telluride.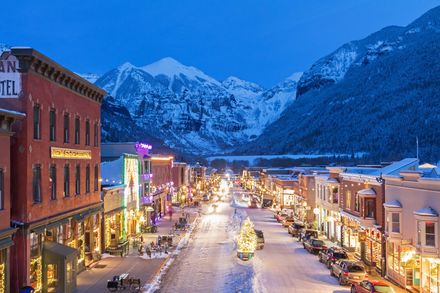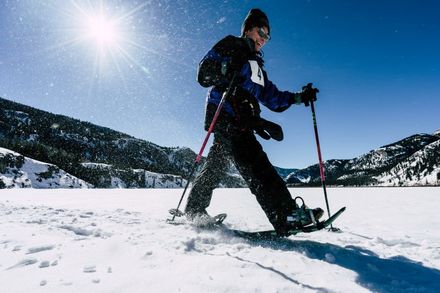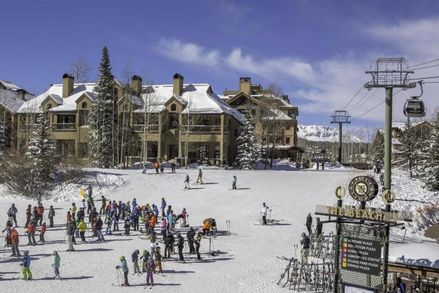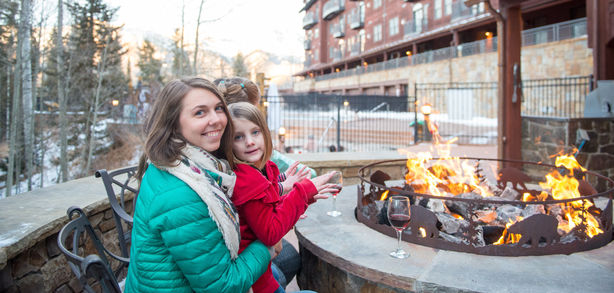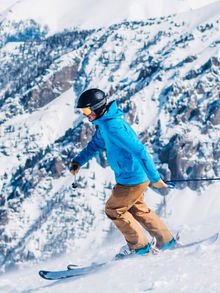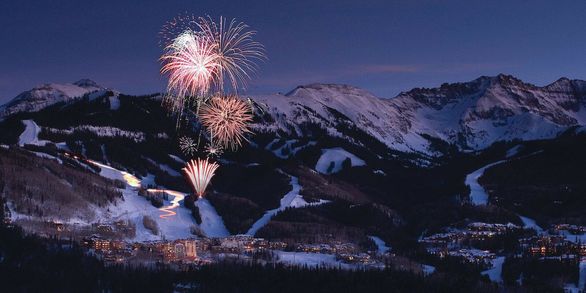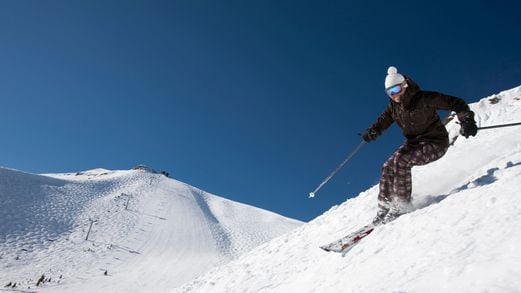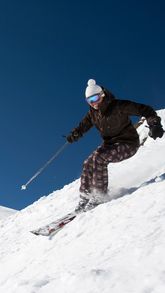 Gondola Information
Known for being "the most beautiful commute in America", the Telluride/Mountain Village Gondola system may be the most unique public transportation in the country.
Stations: Located at the Mountain Village Parking Garage (& grocery store), Heritage Plaza in the Mountain Village core, at the top of San Sophia Ridge, and at the base of Oak Street in the Town of Telluride.
It is approximately a 15-minute ride from Mountain Village to Telluride. For more information and updates regarding COVID-19 please visit: The Town of Mountain Village.
Ski/Snowboard Rentals
There are many options in Telluride to get suited up with the right gear for the mountain.
Check them out below:
*please note both delivery services & rental shops will require advance reservations this season. No walk-ins allowed per COVID protocols.
Lift Ticket and Ski School Information
Telluride Ski Resort will require PRE-PURCHASE of all lift ticket products for the 2021-22 ski season. There will be NO SAME DAY purchase options available. For ordering and details please see: Lift Tickets and Telluride Ski Resort.
Telluride Ski School will also be requiring advance reservations for all lesson participants.
Guest Information
Interested in learning about the events happening around Telluride during your stay? Check out Visit Telluride for more information and happenings around town.
Summer Activities in Telluride
Although Telluride is renowned for its world class skiing, our scenic mountains provide for an awe inspiring array of heart pounding summer thrills as well. From rafting explorations to self-guided Jeep tours, you'll find yourself on the doorstep of adventure here in Telluride.
Below is a list of some of our favorite activities we highly recommend trying during your visit!
With a backyard of 14,000-foot peaks, it is no wonder that Telluride is just as incredible in the summer as it is in the winter. Take in the 360-degree views as you venture into the alpine or ride along winding old mining roads and meandering meadows. Or simply take a moment to relax among the many lakes in the area.
And after a day of activity, enjoy apres in our mining town. Just eight blocks wide and twelve blocks long and a designated National Historic Landmark, Telluride today showcases a thriving arts scene, mixed with modern comforts and culinary delights.
Nearby Day Trips
Black Canyon National Park
Black Canyon is well worth the 1 ½ drive from Telluride with its remarkable views and array of things to do. From horseback riding to rock climbing, Black Canyon will make for a fun and educational experience your family won't soon forget. Read More »
Ridgway State Park
The park is just 45 minutes outside of Telluride and provides spectacular views of the San Juans while you are out sailboarding, hunting, or geocaching. Grab a pair of binoculars and explore this beautiful state park. Read More »
Silverton
Like Telluride, Silverton was born from the prospect of striking it rich by an influx of miners in the late-1800s. Now the town thrives as a historical community with plenty of great outdoor activities. Families will enjoy horseback riding, fishing, and of course, Silverton/Durango's historic coal powered train that provides unparalleled views while winding through the twists and turns of the San Juan Mountains. Read More »
Mesa Verde National Park
Walk, hike, or bike through spectacular canyons and get a glimpse into the lives of the Ancestral Pueblo people at Mesa Verde National Park. You can visit any of five different cliff dwellings, Balcony House, Cliff Palace, Long House, Spruce Tree House or Step House, and immerse yourself into a different culture. Twilight Tours are also available! Read More »
Durango
Beautiful Durango, CO is only a two hour drive from Telluride and filled with amazing shopping, views, and historical walks. On top of playing host to outstanding skiing, hiking and biking, Durango has a lively town scene with museums, art galleries, and a variety of spectacular live music. Don't forget to try a handcrafted brew at any number of their many local breweries. Read More »
Ouray
A quick trip over to the famous Ouray Hot Springs is a great way to unwind after a day of play in Telluride. This family friendly location has a lap pool, diving area, and a shallow kid's play zone. For more of an adult adventure, check out the birthday suit friendly Orvis Hot Springs. Day time activities in Ouray include miles of Jeeping trails, ice climbing, or a historical walking tour. Read More »

Ski Resort
The Most Beautiful Place You'll Ever Ski!
In 1972, Joe Zoline installed the first ski lift on the slopes above Telluride and a ski resort was born. Along with Telluride native and mountain manager, Bill "Senior" Mahoney, they put together a plan to grow the resort and develop Telluride, as well as the surrounding region. Six years later, two entrepreneurs, Ron Allred and Jim Wells, purchased the resort with the idea of making it a world-class ski destination. The new ownership embarked on a plan of lift upgrades, ski terrain expansion, the development of Mountain Village and the Gondola. Then in 2004, Chuck Horning and his partners purchased the resort, continued the expansion and are still currently the owners today.
Telluride Ski Resort offers a unique ski experience for all levels of skiers and snowboarders with a mix of quality terrain of varying levels across the mountain. From beginner groomed runs to steep double blacks there is something for everyone. Telluride Ski Resort is often uncrowded through most of the season, and it may seem like you have the mountain all to yourself. The views from the top of the resort are exquisite; you'll discover why Telluride has been called, "The most beautiful place you'll ever ski."
The Ski Resort boasts over 2,000-plus acres of skiable terrain and 148 trails. Interestingly, Colorado is one of the sunniest states in the country, with over 300 days of sun per year. In Telluride take advantage of the sunshine while also enjoying the 300-plus inches of snow. For experts, challenging terrain exists off Gold Hill, whereas See Forever is great for those of intermediate ability, and the 4.6 mile-long Galloping Goose trail is ideal for beginners. If you like to freestyle, Telluride offers several terrain parks with rails, boxes and kickers.
Ski Resort Quick Facts
Skiable Terrain: 2,000+ acres (810+ hectacres)
Longest Run: 4.6 miles (7.4 km) "Galloping Goose"
Total Trails: 148
Trail Difficulty: 23% Beginner | 36% Intermediate | 41% Advanced / Expert
Total Lifts: 19 Total: 2 high-speed gondolas, 7 high-speed quads, 1 fixed quad, 2 triples, 2 doubles, 2 surface lifts and 3 magic carpets
Vertical Drop: 4,425 feet (1,349 m)
Lift-Served Drop: 3,790 feet (1,155 m)
Elevation: Base: 8,725 feet (2,659 m) | Lift-Served:12,570 (3,831 m) | Maximum: 13,150 feet (4,008 m)
Lift Capacity: 22,386+ skiers per hour
Ave Annual Snow: 309 inches (789 cm)