Welcome to our Telluride June 2023 Market Report! In this edition, we will delve into the latest trends, developments, and insights shaping the real estate landscape of this picturesque mountain town. Nestled in the heart of Colorado's San Juan Mountains, Telluride continues to capture the hearts of both residents and visitors alike with its awe-inspiring beauty and vibrant community. Whether you're a prospective buyer, seller, or simply curious about the local market, this report will provide you with a comprehensive overview of the current state of affairs in Telluride. Join us as we explore key market indicators, analyze notable sales, and offer expert commentary on the factors influencing real estate dynamics in this coveted destination. So, let's embark on this journey together and uncover the secrets behind Telluride's captivating market performance.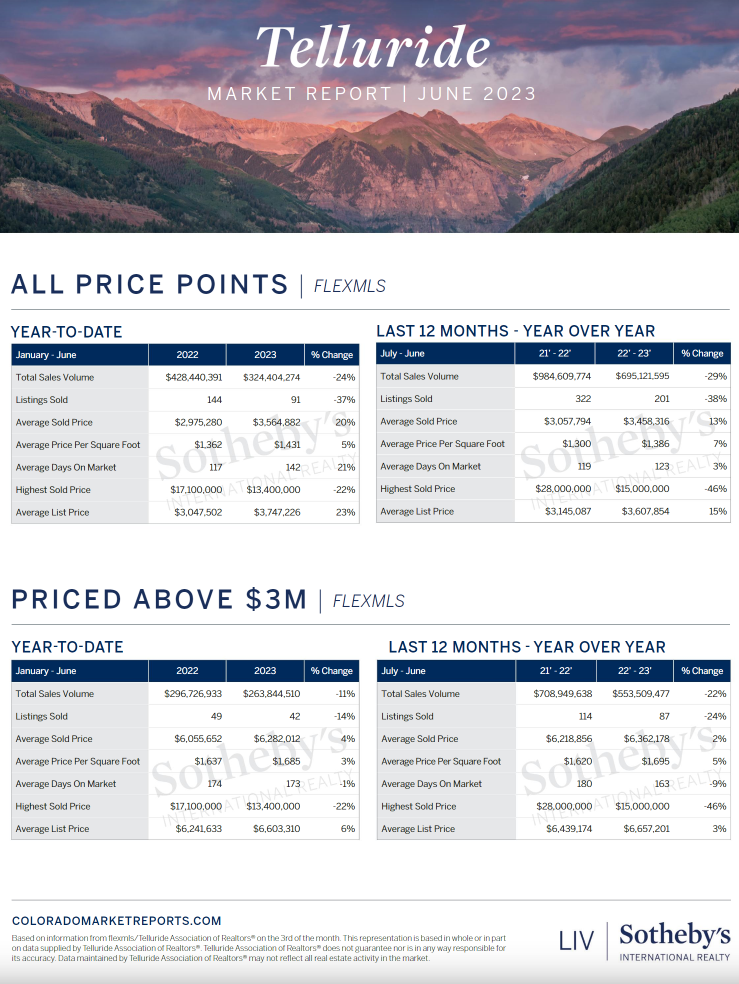 The Telluride Market Has remained Strong with the following factors.
Strong Demand: Telluride has consistently experienced strong demand for its real estate, driven by its reputation as a premier mountain destination. The allure of its stunning natural surroundings, world-class skiing, and vibrant community has attracted buyers from around the globe.
Limited Inventory: Like many desirable markets, Telluride has seen limited inventory in recent years. This scarcity of available properties has contributed to a competitive market and, in some cases, increasing property prices.
Luxury Market: Telluride is known for its luxury real estate offerings, including high-end homes, ski-in/ski-out properties, and exclusive mountain retreats. The luxury segment of the market has remained robust, attracting affluent buyers seeking exceptional properties with premium amenities.
Vacation Homes and Rentals: Telluride's popularity as a vacation destination has created opportunities for property owners to capitalize on the short-term rental market. Vacation homes and rental properties can provide a source of income for owners when not in personal use.
Outdoor Recreation: The region's abundant outdoor recreational activities, including skiing, hiking, mountain biking, and fly fishing, contribute to the appeal of Telluride's real estate market. Buyers often seek properties that offer convenient access to these activities.
Preservation of Character: The town of Telluride has taken measures to preserve its historic character and natural beauty, maintaining strict regulations on development. This commitment to preservation adds value and enhances the desirability of the area.
Ready to discover more about living in Telluride? Whether you're captivated by the breathtaking mountain views, seeking adventure in the great outdoors, or yearning for the unique community spirit, there's so much to explore in this enchanting town. Don't miss out on the opportunity to make Telluride your home. Reach out to our team at Living Telluride today to get personalized guidance and expert insights on real estate options, local amenities, and everything you need to know to start your Telluride journey. Contact us now and let us help you uncover the endless possibilities that await you in this remarkable mountain paradise. Your dream lifestyle in Telluride is just a click away! Discover Living Telluride