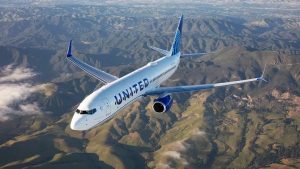 Telluride-Montrose Regional Airport (MTJ), one of two airports that serve the Telluride region, is nearing the halfway point of a $40 million, two-year expansion project.
The project's proponents note that the initiative was prompted in part by the region's ever-increasing popularity, supported not just by winter and summer recreation opportunities but also increases in business travel to and from the area that are driving a desire for expanded air service to even more US cities.
The exciting project, which follows seven years of airport master plan meetings, will see the terminal building double in size to incorporate two new restaurants, a new bar, a new baggage claim area, expanded space for airline counters, enhanced security infrastructure and additional gates.
The first part, which should be complete by Dec. 1, 2022 (just in time for holiday and ski season travel), involves the building of an extension on the north side of the airport, where the restaurants, bar, baggage claim and additional gates will be located.
Part two, which will finish in fall 2023, sees work move to the south side of the existing terminal and focuses on areas in use by the airlines that serve the airport, including enhanced counter space.
Outdoor areas are getting an upgrade too. The new facility will have an outdoor patio with a fireplace for passengers waiting to be picked up, along with an additional 570 parking spaces and upgraded drop-off and pick-up areas.
MTJ was barely ruffled by the pandemic-related disruption that many airports suffered and welcomed more air passengers than ever in 2021. Last year, roughly 400,000 passengers transited through the Montrose airport, which is 65 minutes from Telluride and Mountain Village — one of the most stunningly scenic drives you'll ever experience and not a traffic jam in sight.
Montrose's robust air service makes traveling to the Telluride area a cinch. American, Delta, Southwest and United all fly to/from MTJ and this winter's recently announced air service includes both a continuation of established routes and some exciting additions to/from major hubs such as Atlanta, Austin, Chicago, Dallas, Denver, Houston, Los Angeles, New York/LaGuardia, New York/Newark, Phoenix and San Francisco.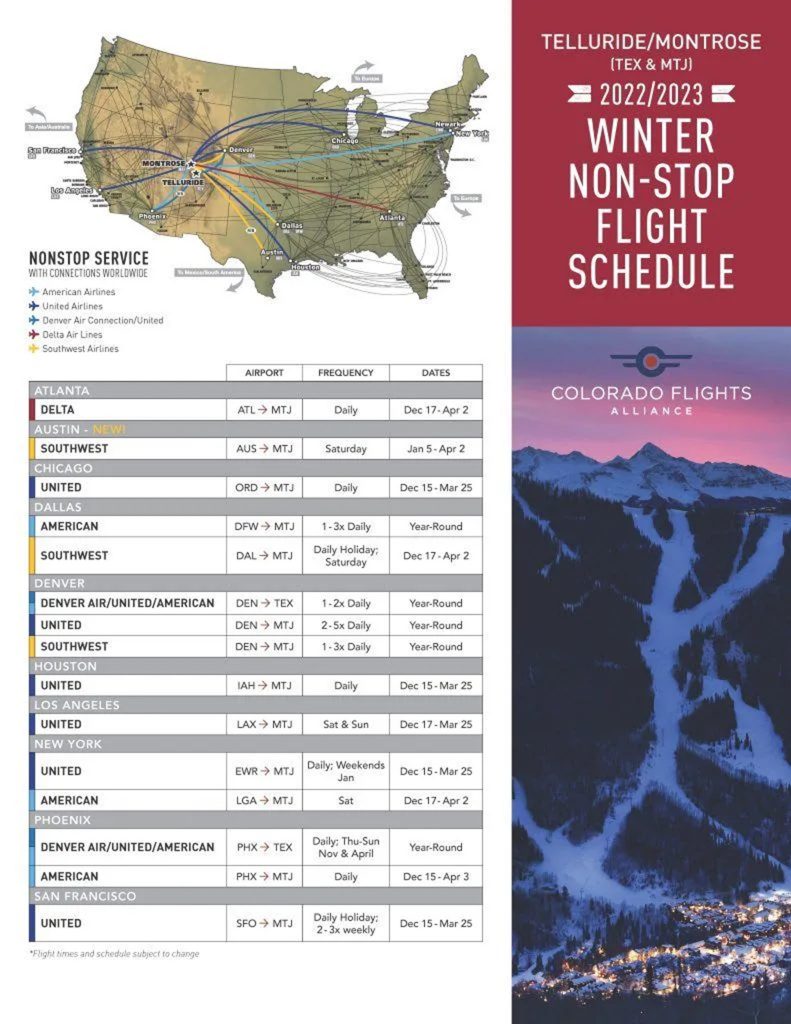 Meanwhile, the Telluride Regional Airport (TEX), which offers frequent air service to/from Denver and Phoenix on United-partner Denver Air Connection, hasn't exactly been idle either. In fact, TEX has made flying to/from its facility, located just 10 minutes from Telluride and Mountain Village, greener thanks to the airport's move to offer only sustainable aviation fuel to is customers, the first Colorado fixed-base operator to do so.
The greener fuel is interchangeable with traditional jet fuel and produced using sustainably sourced, renewable waste and residue materials like used cooking oil. Every 7,600-gallon truckload represents a 22-tonne reduction in CO2 emissions over the load's lifecycle, the equivalent to the amount of carbon sequestered annually by 28.7 acres of American forests. Win-win!
For more information about winter 2022-23 air service to MTJ and TEX, go to coloradoflights.org/schedule/. For updates on the Montrose airport expansion project, visit montroseairport.com/201/Airport-Construction.